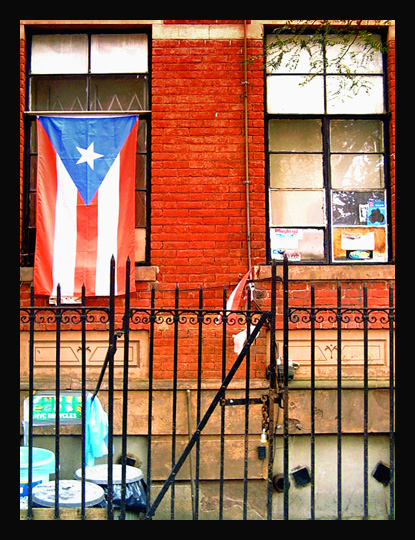 Salsa music simmered to life in New York City's Puerto Rican neighborhoods in the 1960s and 70s: a blend of Cuban son, mambo, cha-cha-chá, and guaracha; a dash of Puerto Rican rhythms; and swirls of other musical ingredients.
New York's early salsa era was one part popular craze, and one part urban cultural movement. Today, Beijing boasts salsa-themed nightclubs, Scotland hosts an annual salsa congress, and salsa music spills out of car windows on hot summer nights in California.
In short, salsa is now a global phenomenon.
A San Francisco Bay Area reader recently sent Apsara a list of his all-time favorite salsa ensembles and solo artists. His lifelong passion for salsa began several years ago in Bogotá, with Fania All Stars (a showcase ensemble of Fania Records artists) topping the list.
Our Latin Thing
The film Our Latin Thing recounts a famous 1971 Fania All-Stars concert held in New York's now-defunct Cheetah disco, and features footage of East Harlem. Fania recently released a re-mastered 40th-anniversary edition of this musical time capsule.
Fania All-Stars launched the solo careers of many salsa legends, including the "Queen of Salsa" Celia Cruz. Originally from Cuba, Cruz's impressive recording career spanned 50 years and lasted until close to her death in 2003.
Celia Cruz: "Guantanamera"
Other favorite solo artists from our reader's list include:
Willie Colón (trombonist and singer): "Idilio," "El Gran Varon," "Gitana," "Celos," "Murga de Panama," and "Calle Luna Calle Sol" from the album Greatest Hits
Henry Fiol (composer and singer): "Oriente," "Ahora Me da Pena," and "La Juma de Ayer" from Fe, Esperanza y Caridad
Larry Harlow (pianist): "El Paso de Encarnacion," "La Cartera," and "Abran Paso"
Pupi Legarreta (flutist and violinist): "Sabroso Como el Guarapo" and "El Niche" from Pa' Bailar
Ismael Miranda (composer and singer): "Asi Se Compone Un Son" and "Maria Luisa"

Eddie Palmieri (pianist): "Azucar," "Vamonos Pal Monte," "Puerto Rico," and "Muñeca" from A Man and His Music
Thank you for sharing this wealth of salsa music with us! We'll be posting the rest of the list on Facebook and Twitter this week.